New
Earn up to €1.000 with our Referral Program
→
Digital product studio bridging the gap between design and development
Business leaders choose us as their trusted partner for designing and/or developing their apps, offering high-quality and fast execution capabilities without the high cost.
Trusted by promising companies
Services
We're specialized in bridging the gap between design and development
We build custom web-based applications with React or Next.js (depending on the project's needs and your preferences).

With optional back-end:

Custom Apollo GraphQL API
Headless CMS with Strapi.js (GraphQL API or REST API)

We build custom cross-platform mobile apps for iOS and Android with React Native, written in TypeScript.

With optional back-end:

Custom Apollo GraphQL API
Headless CMS with Strapi.js (GraphQL API or REST API)

With almost 10 years of professional experience in digital product design, we create exceptional user experiences for your digital products.

We specialize in designing clean and clear user interfaces in Figma or Sketch, according to your preference.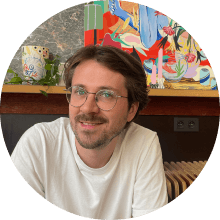 Meet the founder
Hello! I'm Jan Van Echelpoel
As both a designer and a developer, I'm passionate about building functional and user-friendly apps that not only delight users, but also have a significant impact on business. In my work, I value practicality and efficiency with a realistic and goal-oriented mindset.
React — React Native — TypeScript — Figma — Visual Studio Code — Next.js — GraphQL — Strapi — Sketch — JavaScript — Tailwind CSS — Node.js — Vercel — Apollo GraphQL — 
Building digital products since 2015
Digital products with a big focus on design: mobile apps, web apps, websites
Swipe for more →
Jan did an excellent job on developing an innovative new feature for the Conversation Starter marketing website. He managed to start with the limited briefing we provided and fill in the blanks beyond our expectations. Good guy!
We build your project for a fixed price. For any project, the price is determined by the kind of work, scope and timeline. Our estimates are calculated based on an hourly rate of €60-€90 and the estimated number of hours required for the project.

The workflow will be tailored to the specific needs and complexity of your project. Building a digital product from scratch typically includes phases like user research, wireframing, visual design, development, and testing.

To adopt a smooth collaboration, you'll have access to a shared Slack channel that serves as a dedicated space for direct communication between you, any team members you want to involve, and us. On Slack, you can chat with us, share your feedback, or schedule a call.

We are a very small studio, which has several advantages over working with a larger studio or agency. We're generally more cost-effective due to our rapid execution possibilities. This means you'll get high-quality work at a more competitive price. Also, we're more flexible, provide smooth communication, and can adapt quickly to feedback or changes in your project's scope.

In short, when working with us, you pay for the result. Not the brand or overhead.

Ofcourse. Providing ongoing support to ensure that your digital product continues to function smoothly and remains up-to-date is crucial. The level and duration of post-project support can be discussed and tailored to your preferences.

Yes, if required by the scope of your project, we work closely with several talented freelance web developers, web designers and digital marketeers ensuring the best possible outcome of your project.

It depends. We have a strong preference for projects with a fixed scope, but depending on the availability we might be open to consultancy. Feel free to reach out to discuss the possibilities.

Awesome, let's work together! You can get in touch by sending an email or scheduling a free discovery call where we will discuss your project.